Early Childhood Center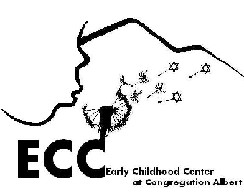 EARLY CHILDHOOD CENTER
Welcome to Congregation Albert's Early Childhood Center, established in 1982. Our 5 Star FOCUS school strives to make your child's first school experience a happy and secure one. We offer a positive foundation for all future learning, creating that joyful, lifelong learner, where our students learn that education is both fun and important. We believe in sustaining a culture of inquiry, with licensed early childhood educators who partner with families and children, and where together we listen, wonder and reflect. We are committed to providing an emergent and inspiring learning environment for a diverse population of young children, with classes for two through five year olds and an accredited kindergarten, where we gently integrate Jewish culture, values and holidays.
Extended care is available. We are play-based and child-centered, supporting the uniqueness of our students and families. Joyfully, we welcome all families and all faiths.
Call and inquire about full or part time choices. Limited scholarships may be available.
Come learn, play, and grow with us!
Registration for ECC is always open.
Click here for all ECC Registration Forms.
Click here for the 2023-2024 ECC Family Handbook
Contact EC Director Dale Cooperman for more information:
505-883-0306
ALL ABOUT OUR CLASSES
Together with Tots
(1-2 years of age)
This hour is designed to be a social experience where your tots are offered the opportunity to enjoy some delicious, fresh baked challah, and to interact with peers in a relaxed and play oriented setting. This class encourages relationship development and promotes feelings of security and independence. (Classes are always enrollment dependent)
Do you have questions about child development?
It does take a village, after all…
This is the time and place to talk with an experienced educator, other parents, grandparents and caregivers in a relaxed and supportive setting.
2 year-old Program
(2 by September 1)
Our 2 year old class is often a starting point for students and many times is a child's first introduction to a group setting. The children at this stage sometimes experience their first separation from parents, so easing the separation for both parent and child is of utmost importance.
Every child is unique, developing language and motor skills at different rates. We provide a variety of hands-on experiences and encourage each child to develop at his/her own pace. Children are introduced to a variety of music, art, dance and movement activities. Introduction to age appropriate Hebrew terminology and Jewish holidays is thematically woven into our curriculum. We encourage creativity, understanding the environment, social skills, and respect for self and others. In addition, we provide support and encouragement for toilet training when the child is showing the developmental signs of readiness. Children in this program can enroll for 2, 3, 4, or 5 days a week, either half or full days. Nap time is a part of our full time 2's day.
3 year-old Program
(3 by September 1)
Our 3 year-old program encourages each child to develop and perform at his/her full potential. The program stresses conceptual development and hands-on learning. Children must be potty trained by the time they enter this program. In this classroom we have children aged 3 through 4.
These children are ready for more independence and choice. Mornings begin with self–selection, encouraging children to explore the environment, acquire social skills and develop respect for themselves and others. The use of materials enables children to be successful in their understanding of language, number concepts, science, cooking, art, music and dramatic play.
Introduction to age appropriate Hebrew terminology and Jewish holidays is thematically woven into our curriculum. The children participate in circle games and other cooperative ventures throughout the day. Parallel play moves to more collaborative play in this group as well. Vocabulary expands and children feel comfortable talking about their feelings. Each child is treated as an individual moving through developmentally appropriate creative, literacy, scientific and numeracy experiences. Children in this program can enroll for 2, 3, 4, or 5 days a week, either half or full days.
4 year-old Program
(4 by September 1)
In our 4 year old program, all the children are 4 years of age by September 1st and they can attend 3, 4, or 5 days a week, either half or full days. The morning is structured yet continues to be a developmentally appropriate environment. Activities in the classroom and on the playground reflect longer attention spans and support ongoing development of gross & fine motor skills. Our 4 year old curriculum includes conceptual exploration, supports aesthetic creativity, encourages upper and lower case alphabet recognition in readiness for reading and language arts, exploration of science and the world around us, as well as numeracy and number identification. Introduction to age appropriate Hebrew terminology and Jewish holidays is thematically woven into our curriculum. It is our desire to provide a nurturing, supportive environment that cultivates the growth of the child both academically and affectively.
5 year-old Program
(5 by September 1)
Our transitional kindergarten/kindergarten program runs from 9AM to 3PM, Monday through Friday. Some children enrolled in this class meet the state mandated cut-off date of September 1. However, children do not have to be 5 years of age by that date, as long as they are 5 by the end of the calendar year.
​For those who do not meet this cut-off date, this program can be the first year of a two-year transitional kindergarten program that implements a kindergarten curriculum—a curriculum that is continually modified to be age and developmentally appropriate. Within the constructs of this curriculum, attention is also given to components of the Common Core requirements in public school settings.
​For all of our students, we thoughtfully integrate academic and creative components, essential in development of the "whole" child. Smaller class size also enhances learning opportunities, helping us meet the needs of the students, with respect to both chronological and developmental age and ability.
​Above all, we support the child in the development of the habit of success.
Extended Care Program
In addition to our school classes, which run from 9:00AM to 1:00PM or 9:00AM to 3:00PM each day, we offer extended care from 8:00AM until 9:00AM, and from 3:00PM until 4:00PM daily. Extended Care from 4:00PM – 5:00PM is enrollment dependent.
Shabbat
Every Friday the Early Childhood Center comes together to celebrate Shabbat. Children participate in the lighting of the Shabbat candles and the blessings over wine (grape juice) and challah (braided bread). The ECC Director, the Rabbi and Cantor lead with stories and the singing of Shabbat songs. Families are welcome to join us each Friday at 9:30am for this joyful, community celebration. Visiting family members are also invited to attend!
​Snow Days and School Cancellation
The Early Childhood Center follows the Albuquerque Public Schools (APS). schedule. Please consult radio or TV for school closing announcements. If APS is closed, our entire program will be closed. If APS is on an abbreviated schedule, our morning school classes (early morning classes 8:00am - 9:00am and 9:00am to 1:00pm) are CANCELED. The Center will be open, however, from 11:00 AM - 4:00 PM for children enrolled in our full day or extended care programs (or 5:00 PM, if we have a late afternoon extended care program). If your child's schedule ends at 3:00pm, that is your pick-up time on these days. Extended care classes (3:00pm - 4:00pm or 5:00pm) will remain the same unless otherwise notified.
2023-2024 ECC Registration Form
2023-2024 Family Handbook Addendum
2023-2024 Family Handbook Signature
2023-2024 Authorization for Student Pick-Up
Enrollment Billing Worksheet 2023-2024
Medical Professional Resources​
"Congregation Albert's ECC was recommended by a friend who sends her daughter here. We met Ms. Dale and felt so completely welcomed. We loved that it is so inclusive, especially with us being in the LGBTQ community. We knew it would be the right place to send our child."
"Ms. Dale has really expanded our knowledge with the newsletters she sends via email that help us understand the many Jewish holidays. We would like to incorporate these more into our family as a way to celebrate inclusivity and diversity."
"The ECC has been a home away from home. As a family we have always felt welcomed and supported at the ECC."
"This is our seventh year with ECC and sending our child to any other school, despite the pandemic, was absolutely not even a consideration. Even prior to COVID-19, the ECC has always held the safety of the kids and staff as the highest priority. We knew this would be even more so during the pandemic. We continue to be impressed by the quality of teaching, safety, and care the ECC provides our son."
"This is our first experience with our child attending school and we have felt so relieved and overjoyed that she feels so comfortable and excited going to school. As mentioned before, it was important for us to have our child learn more about her Jewish heritage and we have loved hearing her excitement for Shabbat and the 'dinosaur' song."
Thu, November 30 2023
17 Kislev 5784
Five Star FOCUS Accredited!
All faiths and families are welcome!
"A whole child approach, which ensures
that each student is healthy, safe,
engaged, supported, and challenged,
sets the standard for comprehensive,
sustainable school improvement and
provides for long-term student success."
​(The Association for Supervision and Curriculum Development)
Upcoming events this week of

November

Fri

1

9:30am

Shabbat Sing

6:00pm

Erev Shabbat Service
Thu, November 30 2023 17 Kislev 5784